Applying eggs on your scalp can infuse the roots of your hair with vitamins. It helps hair to grow stronger and prevents hair fall and breakage. Applying an egg mask makes your hair look shiny, fuller and helps them grow faster. The egg is an excellent source of protein and the yolk contains various components which are rich in nutrients required for good hair. Egg yolk is a round yellow portion of the egg.
Benefits Of Applying Egg On Hair
There are several benefits of using egg yolk to make your hair healthy, strong, and look glossy. Many people apply egg yolk to prevent excessive hair fall, to make them look silky, get rid of brittle hair, nourish the roots, etc.
1. HELP IN HAIR GROWTH
Egg masks are the natural way to promote hair growth and prevent hair fall. It helps in the development and nourishment of the hair root. It also reduces dandruff. It makes roots stronger so that new hair grows fast and strong.
2. Solve DRY HAIR PROBLEM
It adds moisturizers to dry hair and helps them look the glossy length of your hair. You can use 2-3 eggs depending upon your hair length. Also, for good results, add a tablespoon of raw honey.
3. Remove DANDRUFF AND ITCHY SCALP
Egg Yolk helps in preventing dandruff. It provides nourishment to the scalp and blocks the pores for dandruff. Use an egg yolk and neem oil mask to get rid of dandruff issues.
4. ELIMINATES FRIZZY HAIR
By nourishing your scalp, it makes your hair look shiny and silky. By acting as a gentle conditioner it helps in removing the tangles from hair as well. By softening the har texture, it removes frizz from hair gradually
5. DULL HAIR
It adds shine and luster to the hair. By nourishes the roots, it provides a strong foundation for healthy hair.
How to apply egg on hair
Well, after discussing so many benefits of applying egg on hair, who doesn't want to get strong and healthy hair in short tie? Are you wondering how to apply egg on her? But, to start the procedure, you need to understand your hair problem. You must assess your hair problem and appropriate remedy for them.
Best Home-made Hair Mask to grow hair naturally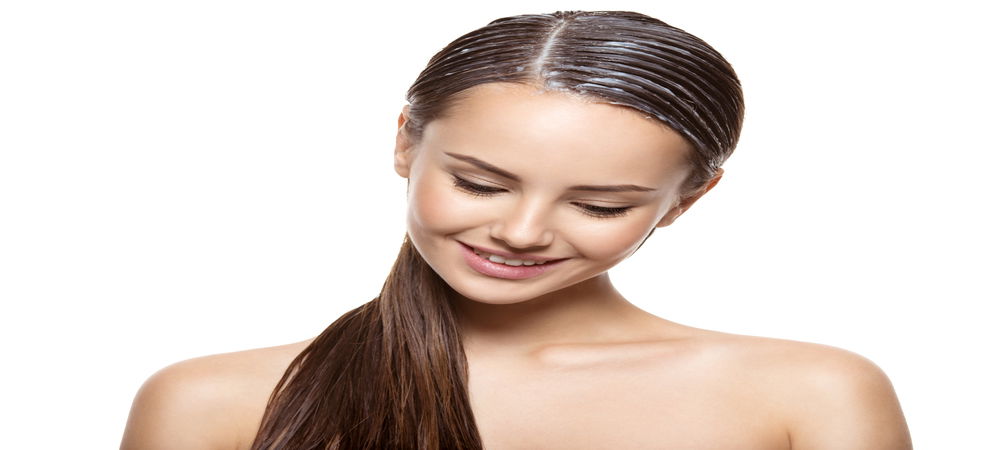 Here are some common hair problems and their remedial egg hair masks:
To nourish dull and frizzy hair
1 Tablespoon lemon juice.
10 drops of lavender oil.
10 drops of rosehip oil.
15-20 minutes
For silky and frizz-free
1 egg
4 tbsp of curd (+add 4 drops of lemon juice to clean the scalp)
For- 30 minutes
For Hair growth
One tablespoon coconut oil.
One tablespoon aloe Vera gel.
Use egg white only
10 minutes
To add shine to hair
One tablespoon of olive oil.
One teaspoon honey
1 egg
15 minutes
To prevent split ends
20 minutes
One teaspoon Castor oil
Egg yolk only
30 minutes
Four drops of peppermint oil
For brittle hair
One teaspoon honey.
One teaspoon of baking soda
10 minutes
How Does Egg White Help Her?
You can use egg white alone as a hair mask or combine it with another ingredient to make it nutrient-rich by adding coconut oil. Some people use egg white as a hair mask to lock hair damage and reverse hair loss.
Steps–
Separate egg white from egg yolk.
Add two tablespoons of coconut oil.
Apply the mixture on damp hair
Let the hair soak in mixture for at least 20 minutes
Wash your hair with your regular shampoo and cold water
Dry your hair naturally.
To make an effective egg white hair mask use Egg + aloe Vera + olive oil
Risks Of Applying Egg In Hair <H2>
Some possible side effects can be caused by using eggs. here are some of the common risks listed below
If you are allergic to eggs, avoid using eggs.
Egg yolk is high in cholesterol, and therefore if you overeat egg, it may cause you heart disease.
Do not apply a hair mask or egg to your sensitive body parts like eyes, mouth, nose, or cut. It may cause irritation or reaction.
Always do a patch test before applying.
Egg hair masks and leave a pungent and irritable smell which may be tough to be removed.
Sometimes it might be sticky
Using a hair mask is quite messy.
Leaving your hair mask for a long time may damage your hair.
Avoid washing your hair with hot water as it may cause eggs to stick into your hair or scalp.
Conclusion
The benefits of applying egg yolk to your hair are undeniable. But, you shouldn't use the mask regularly as it may cause any damage to your hair. Keep consistency in your procedure to get the best results.
Remember, every treatment is not for everyone. Hence, go for the treatment which suits you and has proven to be helpful for your hair.