Eclipta Alba is commonly known as Bhringraj in Hindi. It is a form of herb which grows wildly. It is an Ayurvedic medicine. Bhringraj is an excellent remedy for good skin as well as hair. It provides all the required nourishment to the hair and scalp and also helps in promoting hair growth and preventing dandruff and split ends. It is a natural ingredient enriched in all the nutrients that are safe and perfect for skin and hair.
Can We Apply Bhringraj Powder to Hair?
Yes, you can apply bhringraj powder to your hair. It is an AYURVEDA which claims that it is safe for use and effective. It maintains balance and heals the body through nutrition.
It promotes hair strengthening, hair growth and prevents dandruff and greying of hair.
You can use Khadi Omorose bhringraj powder, which is an excellent and perfect fit for rejuvenating new hair follicles, making them smooth, silky, and strong.
Benefits Of Bhringraj Powder
As the search claims that bhringraj powder has various types of benefits on hair. Also, it benefits in improving skin texture. Some of the benefits are as follows-
● Hair Growth
Bhringraj contains vitamin E, which is a great fighter for free radicals that can block split ends. Also, bhringraj powder prevents hair fall and stops split ends. It also increases hair follicles' number and helps in rapid hair growth.
● Dandruff Reduction
Bhringraj powder has all the anti-inflammatory properties which help in dandruff reduction. It also relaxes skin irritation and itchy scalp and improves blood circulation in roots and scalp.
● Prevent Excess Greying Of Hair
Greying of hair usually connects with genetic properties but can be prevented if greying of hair occurs prematurely. Bhringraj prevents rapid hair greying.
● Relaxing is Headache and Improves Sleep
Massaging on the scalp with bhringraj powder help in relaxing the mind and promote sleep. It consists of relaxing properties that help in muscle relaxation and also improves mood swings.
● Soothe Inflamed Skin
It has hydrating properties, which help in curing dry skin. Its anti-inflammatory properties cause repairing of damaged skin and treat skin inflammation. It also helps in curing acne
● Treats Headache
It has magnesium property which helps in the relaxation of muscles and promotes blood circulation. Also, effective for getting relief in migraines.
How Can I Use Bhringraj For Hair Growth?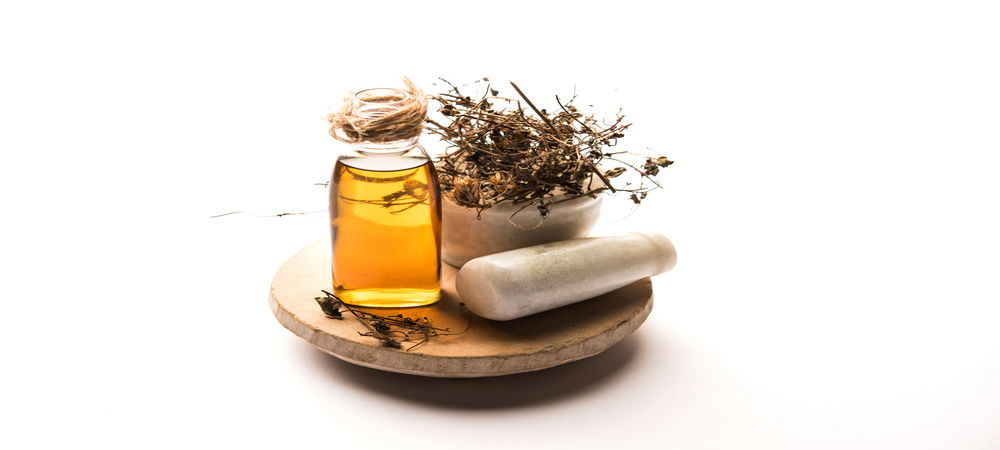 You can use bhringraj oil by massaging directly into your scalp. Bhringraj is a very effective source for promoting hair growth. Heat it for 30 seconds before application for effective results.
Gently massage it with fingertips in a circular motion for about 10 to 15 minutes. And leave it for at least 30 to 35 minutes. So that hair can absorb the nutrients.
Doing massage in a circular motion helps in improving blood circulation and helps in muscle relaxation.
Can Bhringraj Regrow Hair?
It is an Ayurvedic medicine that naturally promotes hair growth and is the best remedy for all hair problems such as hair loss, split ends or premature hair greying. It also promotes and improves blood circulation into the scalp so that new hair follicles will be strengthened.
Can We Mix Bhringraj Powder with Curd?
Yes! You can mix bhringraj powder with curd.
Take bhringraj powder and add curd in a bowl and mix them well.
You can add one egg yolk and fenugreek seeds for extra volume and better growth enhancement for better results.
You can also add olive oil to restore moisture and softness if your hair is dry.
Apply this mask on your scalp and here and leave it for at least a good 30 to 40 minutes.
Maintain consistency for using this mask. Do not apply this mask daily
Disadvantage Of Using Bhringraj Powder on Hair?
There is no serious side effects or disadvantages of using bhringraj. Because it is a natural remedy used to treat skin damage, migraine, hair falls, UTI problem, diabetes, ulcers, scorpion bites, cholera, jaundice problems, high blood pressure, etc.
But still, it is advisable to do a skin patch test before applying bhringraj on your skin or scalp. Do a patch test of at least 30 minutes before application.
Also, it has been suggested that it can cause chills, especially when you take it orally. Hence, it is advisable not to ingest bhringraj orally until your doctor has prescribed you to do so.
Conclusion
Bhringraj is natural Ayurvedic medicine. It is very effective in controlling high blood pressure, treatment of ulcers, diabetes, etc.
But still, it is recommended to go for a 30minute skin patch test before application as it might be unsafe for someone who has sensitive skin or allergies. Also, do not ingest it orally without consulting your doctor.
Therefore, it is beneficial for hair growth and other skin remedies.