Introduction A new hair color retails at a salon in India for around Rs. 500 to 900 per application. Hair coloring is a process of changing the natural color of hair using chemical dye. It can be called a cosmetic treatment and has been one of ladies' most popular beauty treatments for long years.
Many new Indian salons provide a variety of services to their customers, including hair coloring, which is pleasing to the eyes and enhances your personality. To get rid of all your hair problems, you can visit a salon for these services, including those from experts in the field of beauty treatment.
In this article, we will talk about how much hair coloring costs at a salon in India? To know more about it, read on as we explore further.
What is Hair Coloring?
Hair coloring is the dying of one's hair to change its color and appearance. Changing the natural pigment of grey or white hairs is the most common purpose for coloring hair. Both men and women can use hair coloring regardless of their age to get rid of gray hairs, becoming increasingly popular worldwide for long years. Hair coloring can be done using temporary or permanent dye to highlight the hair in different colors.
Hair coloring involves bleaching, dyeing, relaxing, and perming the hairs, which are used to change their appearance. One can also go for semi-permanent color if they want to change their look without any commitment temporarily. The process of coloring the hair will lead to its damage, so it is always suggested that one should get this done by a professional only.
How much does Hair Coloring cost?
Hair coloring can be easily done at home too. However, nothing beats the charm of visiting a hair color salon where you get other services like shampooing, conditioning, hair cut, hair blow dry, and other beauty treatments. Many hair color salons have been providing quality services at a very low cost by professional beauticians to enhance your appearance. In India, you can get your hair colored from Rs. 500 to Rs. 1000 per application, which is not a huge amount if you think about the benefits of having your hair color changed.
Generally speaking, at salons, you can get your hair colored for around Rs. 500 to Rs. 1000 per application, which depends on the salon you are visiting and other services that they provide. Many Indian salons provide expert services in beauty treatment, including facials, waxing, anti-aging treatments, manicures, and pedicures. Add the importance you give your hair color plus your friendly salon's services, and you can get all these done at a very low price.
How Much Does Permanent hair color cost in India?
If you are looking for permanent hair color, then you can expect to pay between Rs. 4000 and Rs. 5000 per application as it is said that one session lasts for around 4-5 hours. It is not an expensive amount if we look at the long-term it provides. Many Indian salons offer unlimited services, which means you can avail of these hair treatment services for one year at a budget price.
Prices of hair coloring vary depending on factors like the expertise of the beautician, type of dye used, length and thickness of your hairs that affect the entire process of coloring. For instance, darker shades will cost more than lighter shades which are time-consuming too because more chemicals get applied, which also causes damage to the hair.
In addition, virgin hair tends to get colored darker than treated hairs which have been chemically processed before colorization making them weak and susceptible to damage which will cost you more money because of their condition. One should get a price quotation from different salons to compare prices and choose an affordable salon providing quality services.
It is always better to go for the salon, which is known for giving quality treatment at affordable prices, offering you a wide range of services in addition to hair coloring. Read reviews on various salons and visit their websites, too, so you can check their portfolio, past work, and charges before availing of their services. If possible, get recommendations from your friends who have gone through this experience so you can appoint a salon worth every penny.
FAQs on How much does Hair Coloring Cost?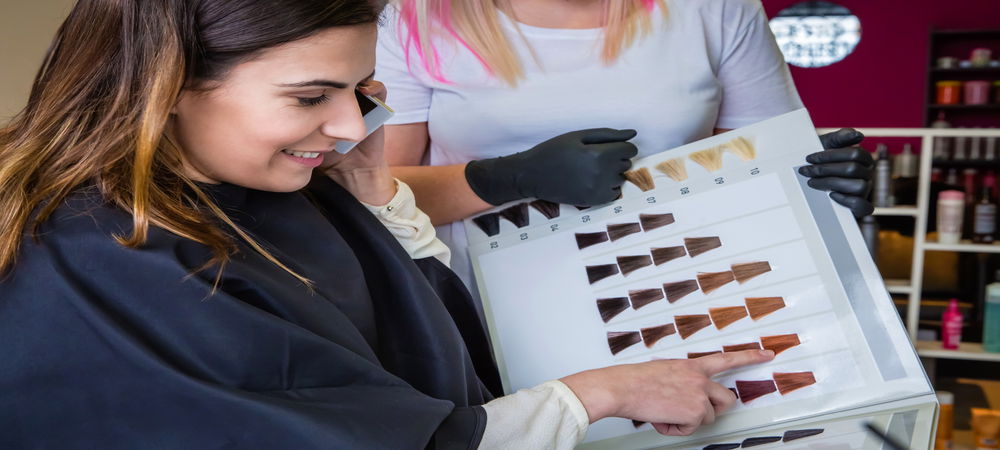 Does hair color fade with time?
Hair coloring fades with time, which is why people go for regular colorations to keep their hair always looking vibrant and fresh. Hair coloring chemicals are not permanent, and they will wear away with time depending on your hair type, quality of dye used, and after-care.
How long does Hair Color last?
Hair color lasts for up to 6 weeks if you maintain it well by washing your hair regularly without exposing them to direct sunlight which can fade the color faster. If you want your hair color to last longer, then go in for regular re-colorations, and you will always have healthy and shiny-looking hairs.
How long does Hair Color take?
Time taken for applying hair color is based on the type of dye used and application method; however, it takes around 3 hours on average, which can even reach up to 5 or 6 hours for virgin and thick hairs.
What is the difference between semi-permanent and permanent hair color?
Hair coloring can be broadly classified into three categories: temporary, semi-permanent, and permanent. Semi-permanents last for up to 25 shampoos which is why it's called a semi-permanent hair color. On the other hand, permanent hair colors last longer and are treated chemically for this purpose. At the same time, semi-permanent treatments are done using natural pigments or vegetable dyes which do not affect your hairs adversely.
Conclusion
Hence, getting your hair colored is important and economical for visitors in India, which has led to their popularity among ladies across the world who visit during vacations to enhance their looks for special occasions.
So next time you visit India, make sure you get your hair color done at a salon near you and look stunning!